There are far fewer campsites in the Peloponnese than in Spain, for example. Most are closed in winter. It's time to park your camper off-grid. Luckily we are self-sufficient with our motorhome. We experience wonderful months full of nature and freedom.
For example we stayed on the beach near Kantia. All by yourself directly on the sand strand with a perfect view on the sea.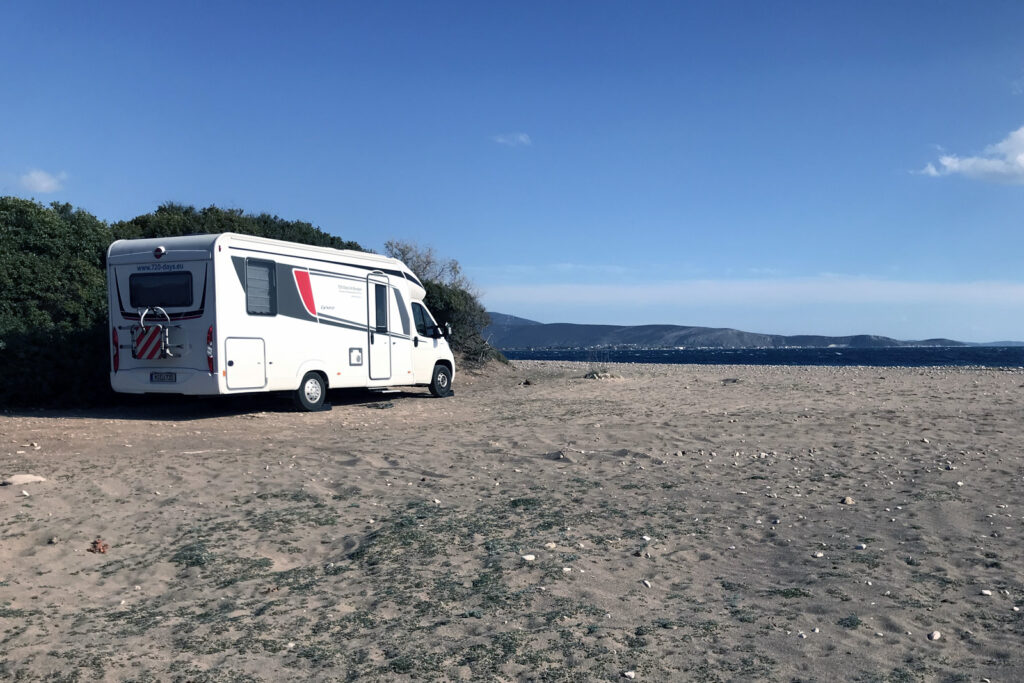 Or on this beach…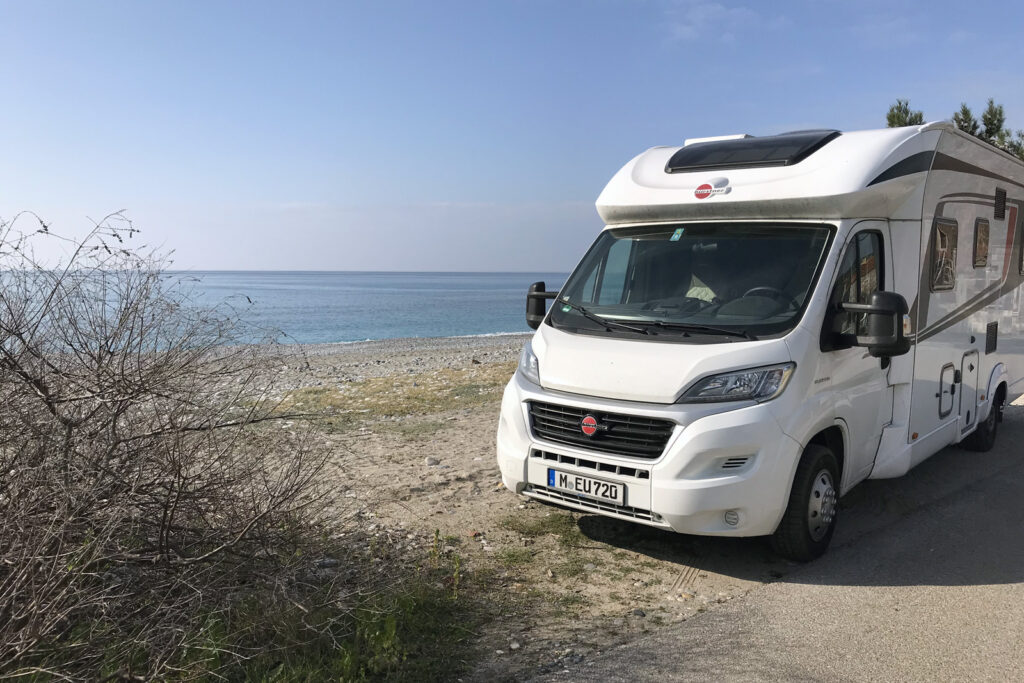 Or also on this beach…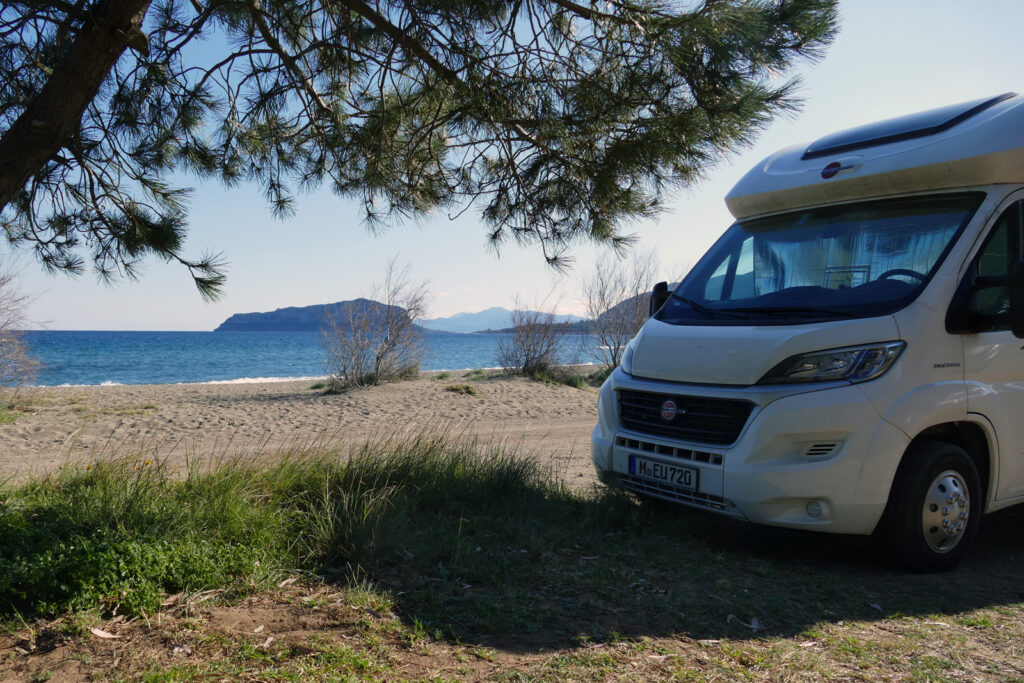 During our time in Greek, we gain some quite solid experiences on how to manage our resources sustainable.
Fresh water
The drinking water supply in the Peloponnese is not a problem at all. We just had to get used to not looking for the "classic camper service". There are often fountains in centers of the towns or at churches to which we can connect a hose. Some drinking water connections are also a bit more hidden.
The beach is always a good starting point to search for fresh water. You can connect a hose to some beach showers.
Grey water
On the other hand dumping grey water is trickier than in other countries. There are hardly any drains. They are also rarely found at gas stations. For understandable reasons, we do not want to simply dispose our grey water into nature.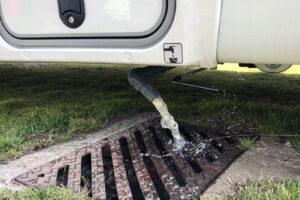 We were most likely to find drains on the main roads near larger towns. There they are usually in front of entrances or exits of buildings. Stop briefly, turn on the hazard lights and let the water out. With the little traffic, that's no problem at all.
Toilet
Without a composting toilet we would not have had a chance in the Peloponnese. Once again we make three crosses that we have decided to exchange.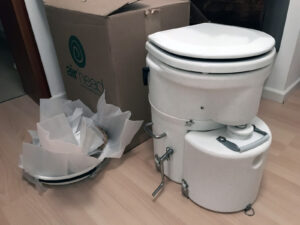 Proper disposal of chemical toilets would only have been possible on the few campsites open in winter (see list below).
Other campers without a composting toilet have come up with some strange and sometimes questionable workarounds like not using chemicals and bury the contents of the cassette with a spade.
Gas
The installation of our fillable gas cylinders was also worthwhile. At 17-20 degrees celsius during the day and 5-10 degrees celsius at night, we use up a 11kg bottle in 7-9 days. The network of LPG filling stations in the Peloponnese is well developed, so filling up with gas is not a problem.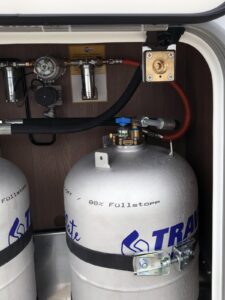 We occasionally saw gas bottles for sale/exchange at petrol stations and supermarkets. However, we did not pay attention to it explicitly. Therefore we cannot say how good the supply of purchase bottles actually is.
Electricity
Our 100W solar panel with the MPPT charging controller delivers 2-3.5 Ah in January/February in Greek. On a sunny day we "fill" 10-15 Ah back to the battery.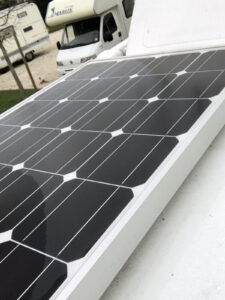 Our consumption is around 15-20 Ah per day. With our 190Ah total battery capacity and the 95Ah that are available to us, we can be off-grid for around 10 days without having to recharge. We can also easily bridge some cloudy day.
The motor of our camper charges with around 20 Ah. In the Peloponnese we rarely drive more than 30 minutes to the next place to stay. Therefore charging with the motor does not work out.
Our electricity-saving tip: Stay in the sun! Because we save the most electricity when the heating does not need to turn on.
Food
The supply of food is not a problem at all. Although only a few coffee shops and restaurants are open and many places seem deserted, there are open supermarkets everywhere. We can find (at least) one supermarket in every tiny town. – It says "supermarket", but it's more like a small corner shop.
Laundry
In the Peloponnese the only laundromat is in Patras. For doing the laundry we therefore stay on campsites.
These 14 campsites are open in winter in the Peloponnese: