Calais to Dover and back. This connection is well known. For round trips, an alternative ferry route may be more suitable. We show the most popular connections between England/Ireland and Belgium/France/Netherlands.
Our journey to England
On our journey from France to the United Kingdom, we took the classic route: Calais to Dover.
We have the choice between ferry and Eurotunnel. We decide to take the ferry because it is half the costs. It may take longer, but we have enough time 😉
The route is operated by P&O Ferries and DFDS. P&O Ferries runs more frequently so we book there. The crossing for 2 adults, 1 baby and our motorhome (7.5m long x 3m high) costs 104€.
Tip:
The prices for the Eurotunnel can be found on their homepage. Meta searcher like aferry or Direct Ferries, are a bit more complicated to use, but they offer a price comparison between the ferry providers and the Eurotunnel at a glance.
Our journey back to continental Europe
Our last stop in England is in Cornwall. Next we want to continue our journey in Brittany France. Therefore we decide not to take the ferry from Dover to Calais, but instead to take the Britanny Ferries from Plymouth to Roscoff instead. This way we save almost 1,200 km (+ several travel days). The higher travel price of about 400€ is worth it.
Overview of ferry connections
If you are also looking for an alternative ferry connection from continental Europe to England/Ireland (or further from England to Ireland/Northern Ireland), we created an overview map.
(Click on the image to open the map on Google Maps. – Marked in red: the ferries we chosed.)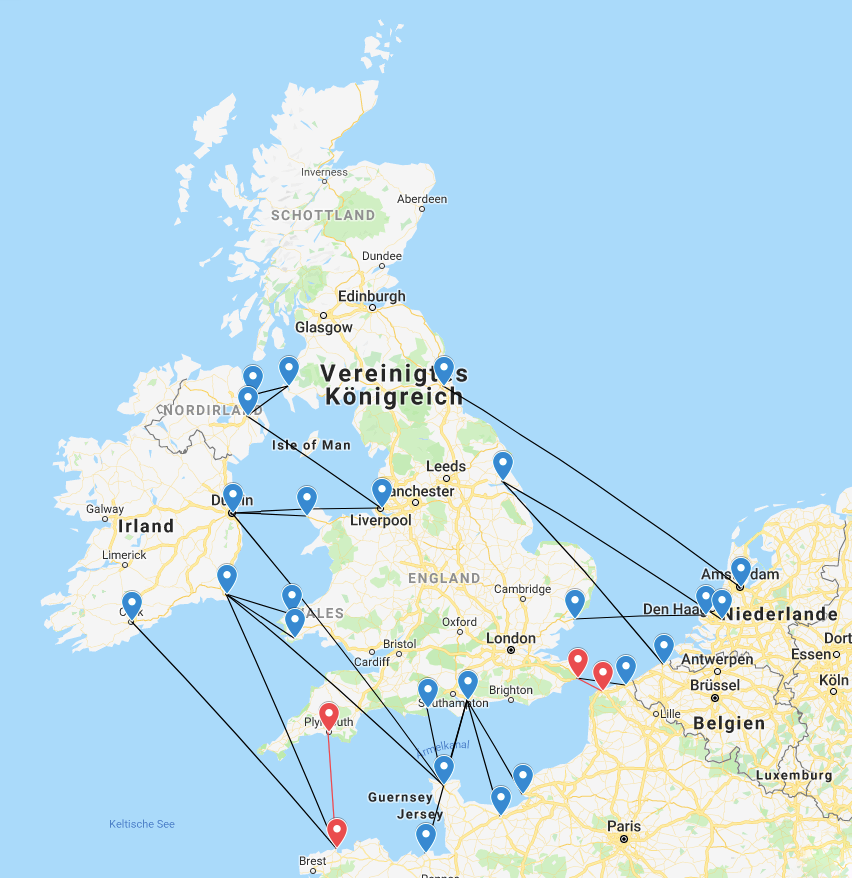 On those routes 5 ferry companies operate in total: